The rock cut caves on Barabar Hills (originally called Khalatika Mountain) were built by Emperor Ashoka for Ajivikas.
IMPORTANCE:
Barabar Caves were built by Emperor Ashoka. Three of the caves in Barabar Hills bear Ashokan inscription.
These caves are pinnacle of knowledge
of precision, curves, geometry, wall polishing and sound frequencies characteristic of an advanced civilisation hitherto unseen anywhere in the world.
There are four rock cut caves on Barabar Hills (original name Khalatika Mountain) – Lomas Rishi cave, Sudama cave, Karan Chaupar cave and Visvakarma cave (these names have no historical antecedents). Three of the four Barabar caves (i.e., Sudama cave, Karan Chaupar cave and Visvakarma cave) have Ashoka's dedicatory inscription. Lomas Rishi has no Ashoka inscription. Nearby Nagarjuni Hills situated at a distance of 1.6 km from the Barabar Hill has another three caves. The Nagarjuni caves have inscriptions by Ashoka's grandson Dasaratha Maurya.
These are the oldest surviving rock cut caves in India famous worldwide for highly developed mirror-effect polishing technology of great regularity.
The interior walls are perfectly flat and supremely polished granite surfaces that creates a mirror effect as well as a very pronounced echo phenomenon. This feature is common to all the caves of Barabar.
GEOGRAPHICAL LOCATION:
| | |
| --- | --- |
| Country | India |
| State | Bihar |
| District | Jehanabad |
| Sub-division | Jehanabad |
| Block | Makhdumpur |
| Village | Barabar, Sultanpur |
| Postal Code | 804405 |
| Coordinates | 25.0055° N, 85.0633° E |
| Google map link | https://goo.gl/maps/4GzmcXE2LaPQtoDU9 |
GOOGLE MAP:
THE INSCRIPTIONS OF ASHOKA IN CAVES: 
I. Nigoha Cave (known popularly as Sudama cave):

𑀮𑀸𑀚𑀺𑀦𑀸 𑀧𑀺𑀬𑀤𑀲𑀺𑀦 𑀤𑀼𑀯𑀟 𑀯𑀲𑀪𑀺𑀲𑀺𑀢𑁂𑀦𑀸
𑀇𑀬𑀁 𑀦𑀺𑀕𑁄𑀳𑀓𑀼𑀪𑀸 𑀤𑀺𑀦 𑀆𑀚𑀺𑀯𑀺𑀓𑁂𑀳𑀺
Lājinā Piyadasinā duvāḍasa-[vasābhisitenā] / [iyaṁ Nigoha]-kubhā di[nā ājivikehi]
"By King Priyadarsin, in the 12th year of his reign, this Nigoha (Banyan tree) cave was offered to the Ajivikas."
The inscription reads "By King Priyadarsin, in the 12 th year of his reign, this cave of Khalatika Mountain was offered to the Ajivikas."
II. Supriyeksha Cave (known popularly as Karan Chaupar cave): This cave contains the dedicatory inscription of Ashoka dating from the 19th year of his reign, about 250 BCE. The inscription is located outside, immediately to the right of the entrance. The inscription has inverted swastika with upward arrow at the end suggestive of Buddhist character.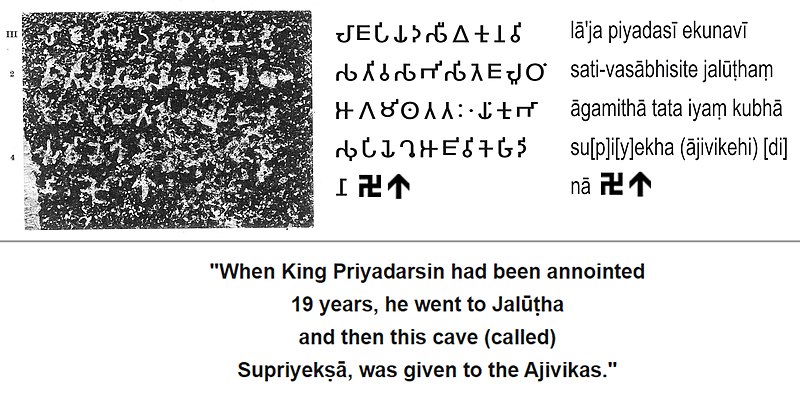 III. Visvakarma cave: This cave is dated circa 257 BCE, unfinished but was consecrated by Ashoka; has dedicatory inscription of the Emperor in Brahmi script..
The word "Ajivikas" (𑀆𑀤𑀻𑀯𑀺𑀓𑁂𑀳𑀺, Ādīvikehi) at the end of the inscription was latter attacked before 5th century AD, but is still readable.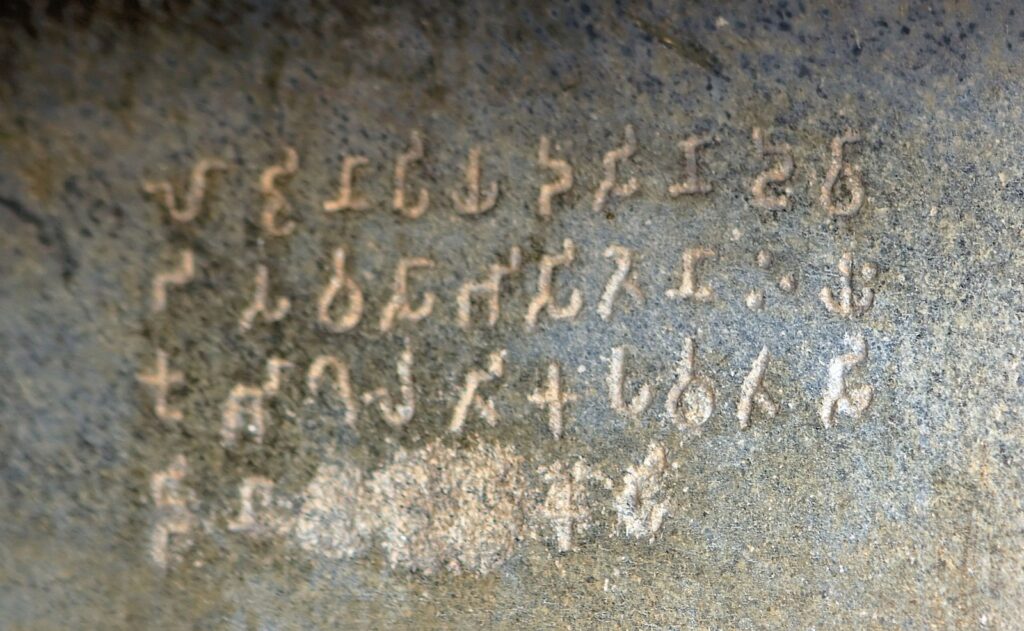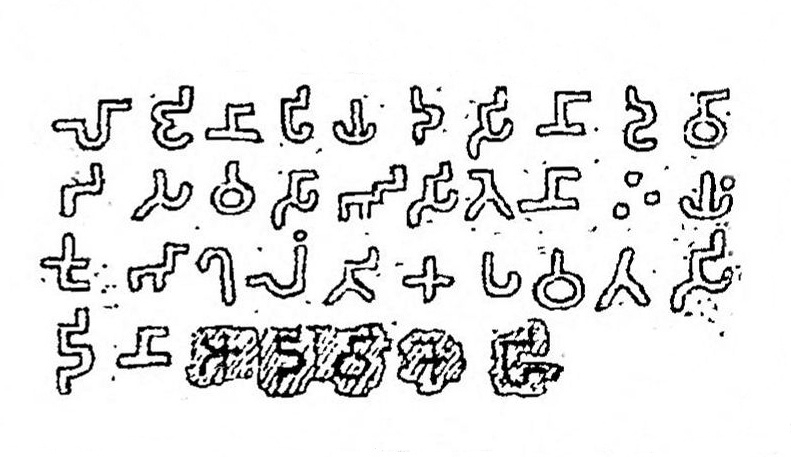 IV. LOMAS RISHI CAVE: Built by Emperor Ashoa around 260 BCE, this cave has no Ashokan inscription perhaps because it was never completed.
The most famous of the Barabar caves due to acrched facade in the characteristic form of the "Chaitya arch"
***
BAM (Builders of the Ancient Mysteries) on Barabar
BAM, BUILDERS OF THE ANCIENT MYSTERIES – 4K CINEMA VERSION FULL MOVIE
a. 34 min – 43 min
b. 1:57.00 Hrs – 2:05.00 Hrs
"Five carved rooms, totally devoid of decoration or religious motifs.
complex shapes with inclined vertical walls with very precise angles,
vaults formed of one or three centred arcs
and symmetrical volumes with surfaces as smooth as glass
all of it achieved in granite, more resistant than hardened steel.
We believe that it could be the materialisation of a very advanced knowledge related to the use of sound frequencies
which means that sound was used to obtain precise effects,…"
***
SELECTED VIDEOS:
1. Barabar Caves & The Lost Ajivikas
2. Seven Wonders of India: Barabar Caves
3. Lost Technology of Ancient India? The Enigmatic Barabar Caves | Ancient Architects
4. Acoustics of Barabar Caves
5. SAMRAT ASOKA'S CAVES INSCRIPTIONS ; BARABAR HILLS BIHAR
***